Custom Screened Patios
Upgrade Your Patio with a Screen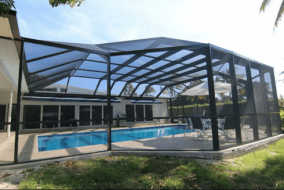 Having a large patio in the back of your home can be a great place to enjoy the weather, but without a screen bugs and other critters can get in the way. If you have already put time and money into making your patio a comfortable area, consider adding to your investment with a screen enclosure. At Reliable Shutters & Screen, we offer a variety of styles and sizes to protect you and your family while you are getting enjoyment out of your patio.
A few benefits of a screen enclosure include:
Protection from bugs and other pests
Protection for your furniture
Easy cleaning and maintenance
Screen enclosures can add to the aesthetic value of your patio, should you choose our company for your patio building needs. If you are interested in more information or a free quote, give us a call at (754) 226-7126.